The maintenance of many houses' safety and comfort depends heavily on sump pumps. If you might not use them frequently, sump pumps are the first line of defense against basement any water damage.
Periodic sump pump cleaning is necessary to keep it operating for a long period. Therefore, maintain your sump pump. But even the best-maintained sump pump can encounter issues. If you don't know what to look for or how to resolve the problem, it can be a frustrating situation. The most common sump pump issues that homeowners have will be covered in this article, along with solutions. It will keep your house dry and safe from dangerous water levels.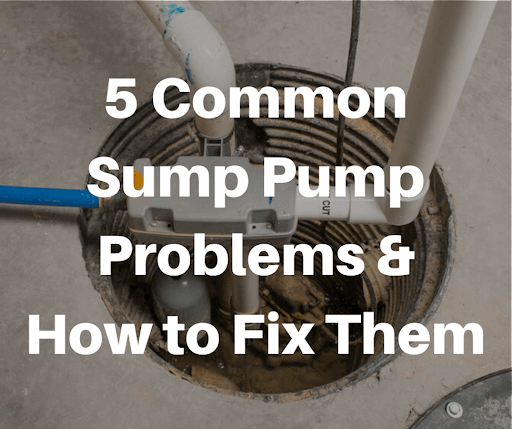 Sump Pump Problems and their Solutions
1. Energy Waste
Your sump pump requires power to work, just like any other electric item in your house. A sump pump, however, may experience power loss for several reasons, including a tripped circuit breaker, and an unplugged pump.
Solution: Consider purchasing a top-notch backup sump pump if your home has regular power outages as a precaution. Imagine if a storm caused your electricity to go out. High-capacity battery backups can aid you in fending off flooding and also warn you when your property is in danger.
2. Blockage in the Discharge Line
One of the most frequent reasons for sump pump failure is a blocked discharge line. The sump pit's discharge line connects it to the outside, and if it gets blocked. So, the system as a whole shut down, allowing water to accumulate in your basement.
If your sump pump has no lid, dirt can accumulate over time and cause it to clog. This may cause it to operate less effectively or not at all. The other reasons for a clogged sump pump are listed below.
The sump pit overflows with trash.
Over time, the mechanical components get blocked with dirt.
Your pump's float switch might become clogged or frozen with debris.
The system may become tangled with your switches when they jam or tangle. If it's stuck on, the sump will run continuously.
To make sure it is cleaned out, you should get your sump examined regularly. However, send someone inside to take a look if you observe any of these.
Solution: Regular cleaning and covering your discharge line with a screened vent cap or grate are two of the best things. You can do to keep the line from being blocked. A variety of materials, including dirt, rubbish, and other foreign objects, can hinder your sump pump discharge line. Use insulation tape to keep the pipe warm if freezing weather has caused your discharge line to get plugged.
3. Your sump pump stinks
A drain trap on sump pumps stores water. This will prevent sewage and gas from backing up and getting into your home. The offensive odors are released as the water in the trap evaporates. It frequently occurs in hot, dry conditions.
Make sure there is water in the trap at all times to avoid it. You shouldn't experience those unpleasant odors pouring out as long as the water level covers the drain lines.
Solution: To clean your drain, you can also apply a bleach solution. In this case, 1 gallon of water and 1 cup of bleach. Pour this in so that the float switch activates. Additionally, you may brush the trap basin's sides to remove any accumulated dirt and allow it to drain.
4. Overloaded Sump Pump
Overloading is a typical reason for sump pumps to break down. It's pretty simple to overwork the system depending on the sump pump you have. It could be time to upgrade your system if you believe your sump pump is overtaxed. Also, install more sump pumps, if you think your existing sump pump is overtaxed.
Solution: Since sump pump capacity is defined in horsepower. You must be aware of how much horsepower your property requires depending on several variables. It must include the depth of your basement, temperature, the size of the sump pit, and the possibility of flooding. Consulting with a professional can assist you in selecting the ideal sump pump for your requirements. If you are unclear about the kind of sump pump your property requires, do consult professionals.
5. Faulty Installation
Last but not least, it's conceivable that your pump was fitted wrongly if your sump pump is operating inefficiently. And you're still trying to figure out what the issue may be. A sump pump that has been improperly placed can reduce performance and, in extreme cases, cause the system to fail.
When installing your sump pump, the technician may have neglected to put a check valve on the discharge line. If, for instance, you hear the engine running but do not see water pumping. Without a check valve, a backflow of water might force your sump pump's impeller to spin backward. The backward spin would cause the motor shaft to come loose.
Solution: Check to see if your sump pump is fitted properly. If you believe your sump pump was improperly installed. You should get it replaced by a professional as soon as possible.
One of the easiest ways to avoid more serious concerns is to stay on top of problems before they arise. However, having a water damage restoration service you can contact in an emergency is important. The professionals can help you avoid having to pay for later, more expensive repairs.
Final Thoughts
Sump Pump Professional maintenance inspections performed regularly can help prevent these problems. It will enable you to identify the significant issues enough that they might not turn out to be as problematic. Maintaining your sump pump is essential to avoid being cut off when you need it most. We have listed some sump pump problems with their solutions in this article.
There you have it, then! Now that you are aware of these typical sump pump issues. Also, now you know what to watch out for.