Being bridesmaid will put you on the front row, but it is also a lot of responsibilities. To help you to accomplish your mission with brio, here are 10 commandments to be the perfect bridesmaid.
Have you been chosen to be one of the bridesmaids? Congratulations, you should be one of the closest best friends of the bride-to-be.
Not to disappoint her and to be as perfect as possible, you should respect some few rules.
Here they are: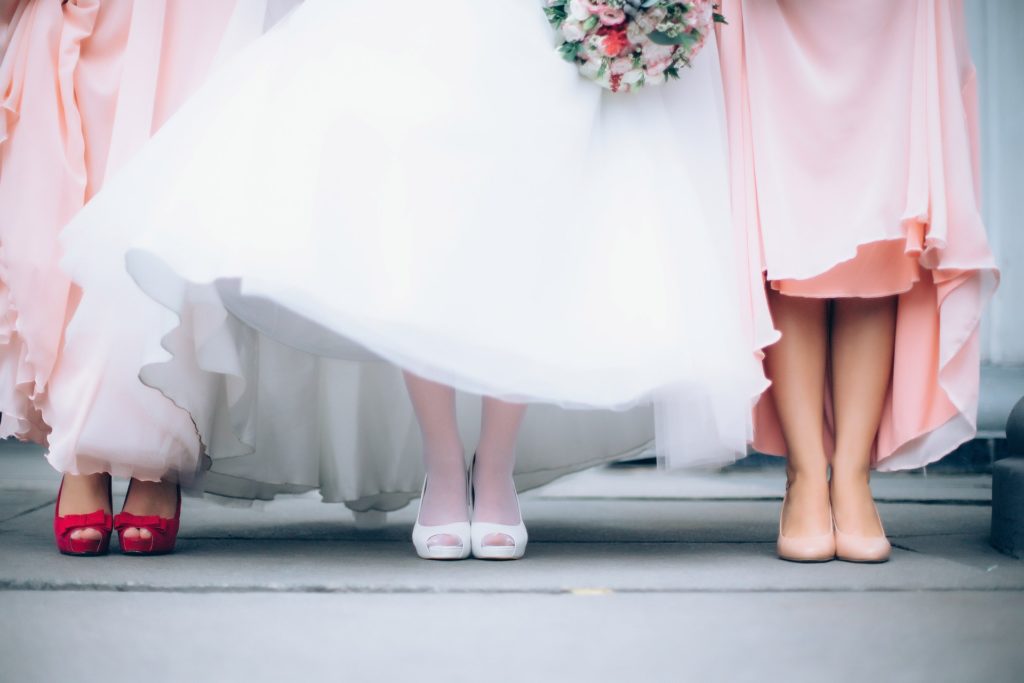 1. Be here
You've been designated to be a bridesmaid, it is important.
The first thing to do before starting something is to understand that you will be asked to be here. Without having a full-time job, you will need to fulfill every need of the future bride, before, during and after the wedding.
Bachelorette party, animations, playlists, fitting sessions, several tasks are incumbent upon you. Hopefully, you are not alone, never forget that.
2. Actively contribute
Yes, showing out at the wedding with a bright smile to make a good impression won't be enough. If you want to do your job in a serious way, you should be full of energy and be creative in every step of this tough journey.
The best thing, it is to own a small notebook in order to gather your ideas and to give a proof to the bride-to-be that she made a good move by choosing you.
3. Focus on details
To be a great bridesmaid, you should focus on details and pay attention to every small thing. From the flower petals for the town hall, collecting pictures of the couple before the day D, to the organization and synchronization of a flashmob surprise with 200 guests, please don't forget anything, it could hurt the future bride fellings.
4. Be patient
Getting married is a lot of stress, money expenses and troubles to solve every day. So, when the big day comes, the wife and husband are about to have a nervous breakdown. If your friend is annoyed and talk to you in a rough way, don't be angry and be patient. She will thank you for that later.
5. Bend over backward to the future bride
When you are a bridesmaid, it happens, sometimes, that you will be asked to wear a puffy fluffy dress that we absolutely don't like. Sadly, you will accept it and bend without saying a word in front of the future bride desires.
To comfort yourself, you won't be alone to wear this terrible peach dress
6. Prepare your speech
For the wine of honor or during the dinner, it doesn't make any importance: you should make your speech without any fail. Because you have a big role in this ceremony, everyone is expecting great things from you, especially the bridegrooms.
In order to be sure not to fail, you should prepare your speech in advance and ask some advice from your relatives few days before the wedding.
7. Make a worthy gift
It is not about spending a lot of money but as a bridesmaid, you can't buy them some salt cellars and pepper pots.
If you are broke, try to find a personal gift (find out more) that would make them very happy or make a kitty with the other bridesmaid to gather enough money to offer them a bigger present, like a romantic weekend for example.   
8. Don't drink too much alcohol
To party, yes, but be careful not to abuse alcohol. If the bride will easily take easy the old drunk aunt, she won't react the same for a bridesmaid. In order to avoid any blame for the rest of your life for being this drunker during her perfect day, you should not drink too much alcohol that night.
9. Looking after the guests
If you friend didn't book any wedding planner to organize her big day, so you should put a little of yourself to ensure that the guests don't need anything.
Feel free to walk from a table to another one to be sure everyone is having a great time.
In case of trouble, do not request help for the bridegroom and try to figure it out yourself and with your friends.
Be mindful when the guests are about to leave: are they drunk? Do they need help? Anything you can do for them.
10. Dance until the end of the night
You will be highlighted in the front row. So believe me, if you don't dance or if the party is not in full swing, there is a risk that the bride would reproach it to you. Sore feet or not, you shouldn't leave the dancefloor.
Do not believe you will be in bed at an early time when you are a bridesmaid, it is not well done to leave before the bridegrooms: it will be a sleepless night for you. But it will be ok, you won't be alone and you will be partying with friends!