Travertine pavers and tiles have become a favorite in Australian homes and businesses. Whether they are placed indoors or outdoor, travertine pavers are a unique form of stone boasting unique patterns that open a world of design opportunities.
To retain their luxury, look, and feel, owners must treat travertine with care. This not only relates to visual means but also function. As pavers are larger than regular stone tiles, maintenance requirements can differ. Additionally, unkept travertine can be expensive to repair or replace. 
So, what measures can we take to ensure the ongoing vitality of our travertine pavers and tiles? Read on below for a detailed breakdown. 
What Makes Travertine Unique? 
Travertine is a special form of natural stone quarried from mineral spring deposits under the earth's surface. While it may be referred to in some circles as travertine marble, travertine is a form of limestone. This rare element has a distinctive eye-catching appearance and comes available in ivory, gold, off-white, tan, and brown. Although porous, travertine pavers and tiles are renowned for their natural beauty and non-slip quality. 
Is Travertine Difficult to Clean?
Travertine pavers and tiles are a significant investment. Regardless of whether they are installed indoors or outdoor, every owner needs to do their part to ensure the ongoing vitality of the surface. Luckily, there are a variety of simple maintenance measures that any home or business owner can apply. 
In most cases, no expensive products or cutting-edge techniques are necessary – only a gentle clean with the right chemicals can do the trick. Obviously, the upkeep of outdoor travertine pavers is a slightly different story, and we will break this down later.
Sealing the Surface-
If travertine pavers are not properly sealed, their naturally porous nature will invariably lead to damage, cracks, or general wear and tear. Sealing, therefore, is essential to the installation phase. Remember that sealants may also need to be applied in the future to maintain and protect the surface over the long term. 
Sealing will be of particular importance for any travertine tile with a honed or tumbled finish. If the wrong sealant is spread over the travertine, ongoing protection cannot be guaranteed.
Prevention Techniques-
Successful prevention not only occurs through sealing but also through how you treat the travertine tiles daily. For bench and countertops, this means using coasters and protective measures to prevent stains and scratches. In the case of the flooring, rugs, doormats, and carpet runners are an excellent way to prevent damage – this could be a significant concern for renters or business owners that need to maintain a travertine surface for end of lease agreements.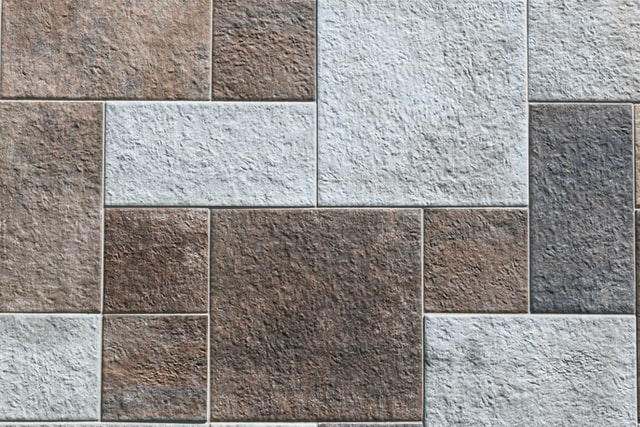 Dealing with the Porous Issue-
When you are dealing with certain forms of travertine pavers and tiles, it is important to note that they can be porous. While travertine is slightly less soft than sandstone, it is typically classified as a 3 or 4 rating on the Mohs hardness scale. Due to this porous nature, travertine pavers are not recommended for areas that receive significant foot traffic.
One of the key areas this affects is the way in which you need to clean the surface. In this instance, we recommend the use of a 'neutral' cleaning product. A neutral cleaning method refers to solutions with a PH rating of no more than 7.
Use the Correct Cleaning Products-
Beyond everyday damage from weather and human foot traffic, many travertine pavers are ruined by the application of the wrong cleaning liquids/products. As noted above, neutral cleaners are your best bet for ongoing protection and performance.
Travertine is naturally vulnerable to acidic substances such as fruit juice, soft drinks, vinegar, bleach, and more. When contact with an acidic substance occurs, you will need to act on it immediately to prevent serious staining and damage. This can be carried out through the application of a hot water/baking soda soluble or a mixture of hot water and detergent. Bear in mind that there are also purpose-made stone cleaning products for these exact situations.
Cleaning Outdoor Pavers-
Travertine has long held its position as a popular choice for outdoor environments. This brings us directly to another common concern, caring for outdoor travertine pavers and tiles. Essentially, water is the most effective method for travertine cleaning. The combination of a mild cleaning agent, water, and a mop is usually all that is needed to keep the surface clean and ready for use. 
While travertine is porous, this allows the surface to readily absorb water. As a result, slipping hazards can be dramatically reduced. Of course, sealing remains a critical element of the process as well.
Avoid Rigorous Scrubbing-
You should always attend to your travertine pavers and tiles in a gentle manner. This means avoiding abrasive and coarse pads. Not only can these pads weaken the seal, but they also have the potential to leave scratch marks on the surface. Another technique to steer clear of is wax. Wax products are patricianly harmful if your travertine has a series of small pits. Remember, polishing of any form can quickly lead to a slip hazard.
For travertine pavers in commercial settings, slip hazards could leave you liable for damages related to accidents and injury.  
Professional Assistance-
If you're concerned about the state of your travertine pavers and tiles, it may be time for help from professionals. This service will be of value for large outdoor areas and pool coping. Professional stone cleaners apply targeted techniques, safe chemical agents, and preventative measures that offer ongoing protection. 
Importantly, cleaners can also clean the grout and reapply a sealer. In these instances, the surface is treated with purpose-made products formulated for either indoor or outdoor use.
Consult with a Stone Supplier-
To create a solid foundation of ongoing maintenance, speak directly to an experienced stone supplier. Their staff may be able to provide insightful tips and tricks to keep your travertine in great shape over the long run.