Are you married to a spouse who is obsessed with the care of your lawn? Mine too. He loves to research and figure out the best ways to keep the grass looking as green as ever each and every season. This includes the fall. Actually, fall is still a time for you to make sure that your front and especially backyard is looking its best. The cooler and moist weather helps the grassroots develop much quicker than in the summer so it's important to actually take advantage of this growing period. Below are a few tips to prepare your backyard for this essential season.
Rake As Often As Possible: I love when the leaves fall on the lawn and you can rake them up into big piles to jump in after your kids. However, when they do fall on the lawn, they can block out the sunlight and prevent plants from making food. Raking up the leaves is key to keeping the passageways open. Once they start falling, you should continue to rake as the wind blows them onto a property as needed.
Continue To Mow: Did you know that grass actually does not stop growing until it gets too cold aka the first frost hits the ground? Continue to mow your grass until you hit the freezing point in November. You'll also want to winterize your mower which includes sharpening the blades, inspecting the mower for damage, and looking at the air filter so nothing is clogged for your future use.
Put Away Summer Decor: While you can still use your backyard cushions and fire pits for the season, you might want to revamp the decor you have from summer to fall. Because it gets darker quicker in the fall, hang string lights up on your patio for your kids to be able to see once the sun goes down. Replace your pitchers of lemonade with pitchers of hot apple cider, trays of s'mores, and big baskets for cozy blankets.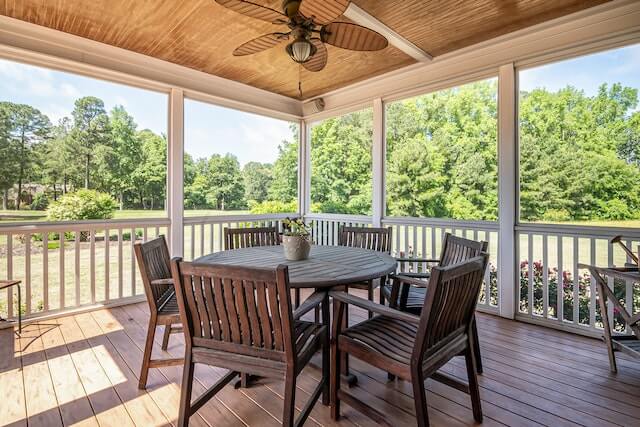 Hire A Professional If You Need Assistance:  My biggest regret is not hiring someone sooner if you need help, especially when it comes to bigger projects. Looking at your fence, does it need some proper TLC? If so, a true professional is there to help! Brazilian Wood Depot offers tremendous service, expertise, and ideas to bring your vision to life as well as the most important product, hardwood, to make sure your deck lasts a long time. Their hardwood is imported from the rainforest and with various kinds of wood such as purple heart or Ipe, you can't go wrong with its longevity, low maintenance, and color. The best part is if you love your deck wood, they even offer composite deck boards to make your home stand out, protect and create a more modern look. 
Check On Your Garden: If you took the time to garden this Spring and summer there are still a few things you can do to help your garden out. Similar to your grass needing to be ready for the first frost, your plants do too. An idea could be building a cold frame ( and you can use it in the Spring as well ) or a hoop house. If you don't have any of those, tack some sheets of plastic to a few 2 x 4's to assist you. This will help your garden keep in moisture.
Refresh Mulch: My kids don't realize that they are trudging through the mulch that we have in our backyard at times so this might be the perfect opportunity to re-mulch! Also, with summer storms the mulch can wash away, fade out or just disappear. Scatter a few bags and the area will not only look neater but also be nestled for the upcoming colder months.
I know there are many other great ideas to help prepare your backyard for fall. I'd love to hear about other fun and interesting ways you have planned as we prepare for the colder months. I always try to have my kids help too and make sure they know how to properly put things away.