Calling all parents! Have your children been showing an interest in helping out in the kitchen? If so, you might be wondering how you can begin introducing cooking into their lives in a way that's safe, but still enjoyable. The truth is, cooking can be a lot of fun for your children and it's a great opportunity for you to teach them to make healthy meals they'll remember forever.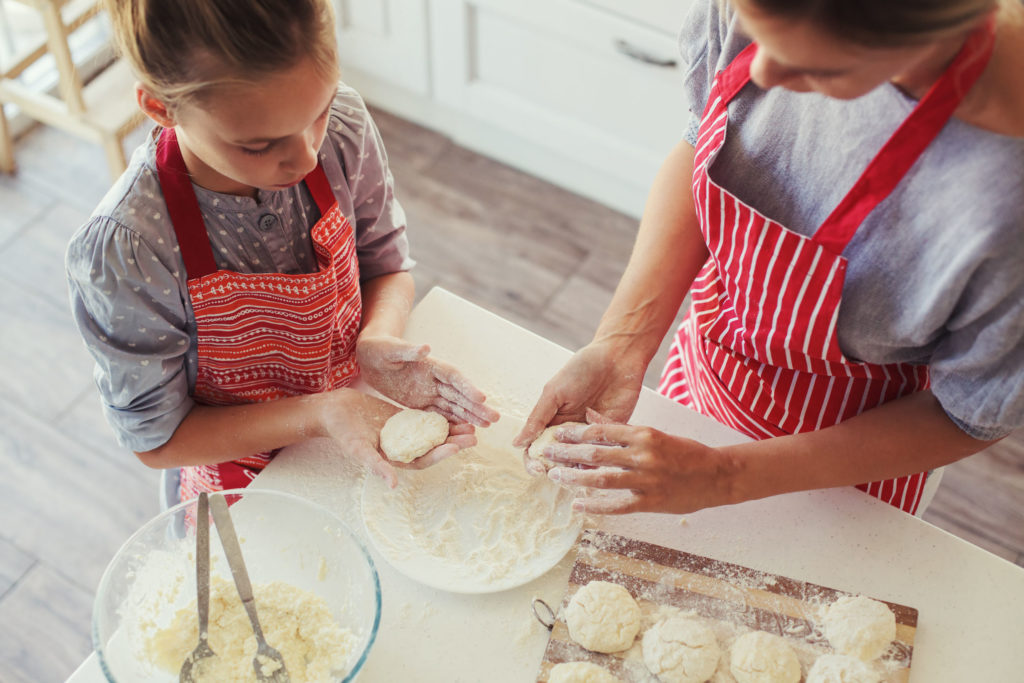 To help you get started, I'm sharing 10 simple tips for teaching your kids to cook. This advice will help you teach them the basics of the kitchen, while increasing confidence in their abilities. Soon enough, you just might have a cooking pro on your hands!
1. Make Time for Cooking in Your Schedule
If you're ready to start teaching your kids to cook, the first thing you need to do is make time in your schedule. There are many parents who feel they're simply too busy to get in the kitchen with their children. After all, isn't it typically faster if you just do it all yourself?
However, if you want to teach your kids the basics and help them improve their skills, cooking together often is a must. That doesn't mean you need to prepare dinner with your kids every single night though. Instead, try blocking off a couple of nights every week for you to get into the kitchen together. By making it a priority, your kids will start to see just how important it is that they practice and better their skills. It also shows that you're dedicated to helping them improve.
2. Start by Teaching Kitchen Safety
To begin, it would be wise to teach your kids some basic kitchen safety tips because it's important that they know proper behavior when cooking. By starting with this essential information, it could potentially help you avoid any kitchen-related accidents.
You can teach your kids how to safely use a knife to cut foods, how to stir pots of boiling water without burning themselves, and how to take pans out of a hot oven without injury. Of course, what you get started with will largely depend on your child's age because you want to choose tasks that are best suited for them. (More on that in a moment!)
It's also smart to teach them how to properly handle food. Kids need to know that it's important to wash their hands before they start cooking and after handling raw meats. They also need to know how to keep their cooking space clean and sanity to avoid any kind of cross-contamination when preparing a meal. The last thing you want is to have any food-borne illnesses occur because of your child's meal. A kitchen island is the ideal place to allow kids assist with meal prep, while keeping them away from a hot stove. Adds Linda Fennessy of Kitchen Magic. 
3. Focus on Age-Appropriate Tasks
The tasks you assign your children to the kitchen will largely depend on their age. You obviously want to make sure the tasks they're taking on and the tools they're using are safe for them to handle. However, you might be wondering what's acceptable for your child to take on.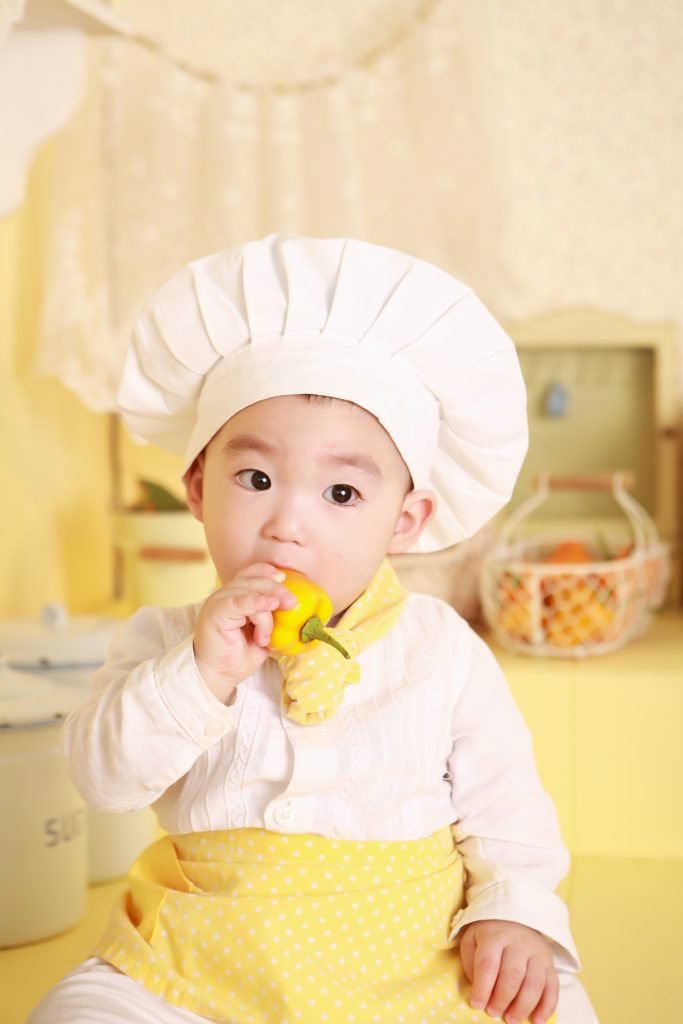 For toddlers, you can get them involved with simple tasks, but still, make sure you're paying close attention. They need supervision in the kitchen to ensure no accidents happen. They can complete tasks such as washing produce in the sink, picking fresh herbs, adding seasonings like salt and pepper (with your help so they don't overdo it!), or kneading the dough.
If your child is aged four or above, you can start increasing the difficulty of the things they tackle in the kitchen. You can have them do things like dicing vegetables, grating cheese, peeling potatoes, shaping cookie dough or meat patties, and measuring ingredients. Of course, these are just a few examples to consider. Make sure that whatever you have your child do, you are giving proper supervision.
4. Let Your Child Pick the Recipe
To make cooking more exciting for your kids, let them pick the recipes they make from time to time. It's a simple way to get them looking forward to their time in the kitchen. Not only that but when they've made something they're excited to eat, they'll likely feel even more proud of what they've been able to accomplish.
To make this arrangement work for you, take turns selecting the recipes. Let your child suggest something they would like to make and then it's your turn next time. It gives your kids some control in the kitchen but still allows you to suggest kid-friendly recipes they can try out.
If your child is having trouble picking recipes, try out a meal delivery service. They actually make the process of picking different recipes very straightforward and send easy to follow recipe cards. My family uses Blue Apron regularly because it takes all of the additional hassle out of cooking.
5. Don't Panic Over Messes
This next tip is probably going to be difficult for anyone who is a self-proclaimed "clean freak." However, it's important you just embrace the messes that are made in your kitchen when cooking with your children. You don't want to constantly be hovering over your child, cleaning up behind them. You just have to be able to let loose and all your kids to experiment and have fun. Telling them not to make a mess when cooking just puts on too much-added pressure.
6. Teach Them Proper Terminology
Just because your children are young, it doesn't mean you have to dumb things down for them. Instead of using words that are easier for them to understand, it's better to teach them the proper cooking terminology so they can start learning it early on.
You can share words and techniques such as searing and sautéing, as well as beating and folding. Kids soak up new skills and information, so this is the perfect time to start teaching them.
7. Watch Cooking Shows Together
Once you've gotten your kids involved in the kitchen, you want to keep that interest alive. One way you can do that is through watching cooking shows for children. There are a number you can find on the air today, many of which feature children participating in cooking and baking competitions.
When your child sees other children doing the same thing, it reaffirms that they are fully capable of thriving in the kitchen. They won't be inclined to doubt their abilities or feel they're too young. Instead, it'll inspire them to get creative and have fun with their cooking as well. And who knows, maybe your son or daughter will be on Food Network one day!
8. Use Your Cooking Time to Bond
Not to get too deep on you here, but your time in the kitchen doesn't strictly have to be about cooking techniques and skills. This is actually a great bonding experience for you and your children. You're able to spend time together, talk about how their day went, and even learn a thing or two about your children's preferences and personalities.
You can even share stories about your family. Share where your ancestors came from and make dishes that are common in their country. If you spent time in the kitchen as a child, share those memories with your own kids.
And if you really want to dig deep, you can also talk to children about important issues that people deal with worldwide. Express to your children the importance of not wasting food and why they are lucky to have clean drinking water. When they've learned how many people go hungry each and every day, they'll remember to feel grateful for what they have.
9. Give Your Child Encouragement
The reality is, you can't expect to be creating restaurant-quality dishes with your child right off the bat. Cooking is a skill that needs to be learned and practiced. For the best results, it's important to celebrate the progress that has been made.
By giving your child encouragement when it comes to cooking, it helps to strengthen their confidence and independence. It helps them feel capable in the kitchen. And when your child sees that you're proud of their work, it keeps that passion for cooking going.
10. Assign Kitchen Chores
If you're going to teach your kids how to make a mess in the kitchen, you might as well teach them how to clean up afterwards. Your kids are more than capable of helping with a variety of kitchen chores to keep the space in tip-top shape.
Have children wipe down counters after they've finished cooking so everything is clean and sanitized. You can also teach them how to wash dishes or load the dishwasher. Once the dishes are clean, show them how to put everything away where it belongs. And don't forget to sweep up any crumbs or mess that's been left behind on the floor!
Featured image copyright: <a href='https://www.123rf.com/profile_alenkasm'>alenkasm / 123RF Stock Photo</a>