It's not uncommon for a bride to get married with a baby already on the way. In fact, a baby coming soon can often be the reason why you're getting married a bit earlier than you expected, but it doesn't make the marriage any less valid. However, it does lower your options for choosing wedding gowns, since you'll have to fit a little baby bump in there. So whether you want to proudly show off your baby on the way, or if you want to  conceal it because you're not ready to make the announcement, here are the shapes and styles that will work best for you:
Empire waist
When you are pregnant, you sort of lose your natural waist completely since your bump gets in the middle of it.  However, an empire waist is when you create a waist that is just below your breasts, much higher than your natural, or regular high waist. This style will give you a beautiful shape, and highlight your body line. Additionally, this positioning of the waist can help you both accentuate and conceal the baby, so it really works for any occasion. Look for something with a fitted top that has an accentuated break – be it a different material, a seam or a belt – right underneath. The thickness of the belt or sash will depend on how long your torso is and how low your bump is sitting.
If you want to hide the bump
Look for dresses that will naturally spread out at your stomach, as they will be able to conceal your bump and look like there's nothing underneath and that it's just supposed to fall that way. Large tulle skirts on princess gown can be a great fit for this, because they allow you to hide even a larger belly in the layers. But if you have a smaller bump, you can look at those wedding dresses from Sydney that have pleats and ruching at the front, making that part of the dress naturally a bit bulkier. A great shape for disguising the bump is A-line, since the shape itself is made to go out, and whether you're wearing something longer or shorter, it will give you the shape you want.
If you want to show off the bump
Already announced that you're a proud momma-to-be? Perfect! There's a whole range of gowns that will accentuate your baby bump and make you the most wonderful bride. One obvious option is to go with a form-fitting dress: something that will hug all of your curves, including the belly, and proudly show off your new addition. But that's not the only way: if you are having the wedding during a beautifully warm day, you can opt for a light, flowy material, that will fall over your bump and make it visible at certain points, while blending into your movement the next minute. Go for either a midi length or a mermaid cut if you want a form-fitting dress, and a long and straight one if you're going for the flow.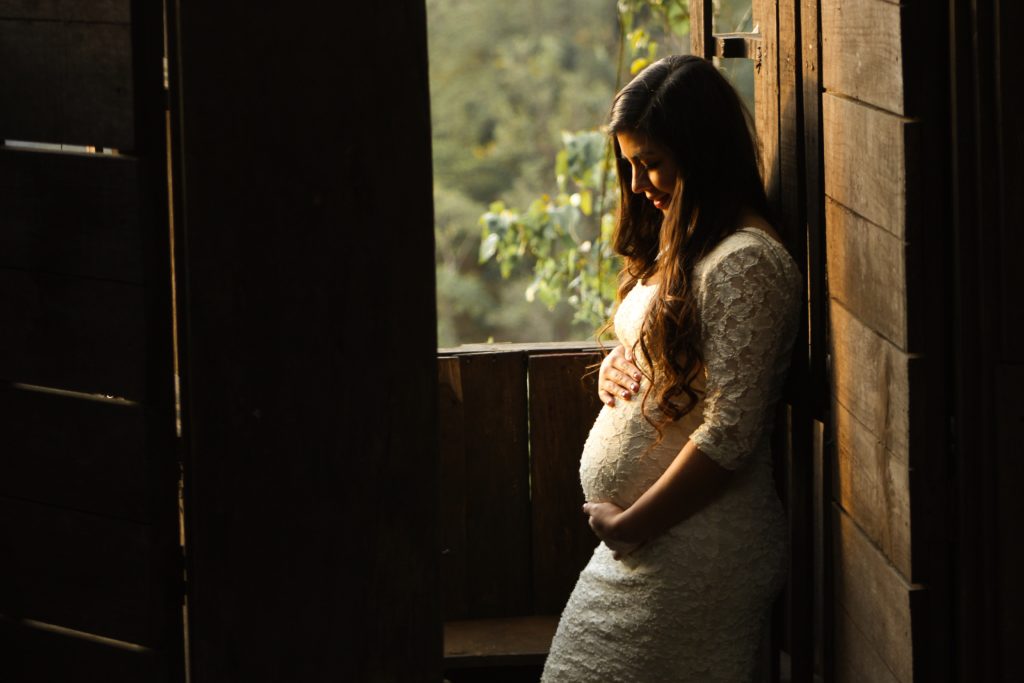 Accommodate your bra
When you are pregnant, your breasts will get slightly larger and heavier, which means that you will probably have to get some new bras. Not only so that everything fits properly, but also because those spaghetti straps you were using up to this point aren't going to hold them up. When looking for a dress, make sure you already have a bra in mind and see if it goes with the dress. If it has thick straps, then you'll want straps on the dress as well, and if it is strapless, then you're going to need some serious underwire support, and a dress that is tight and laced at the back can help with that as well.
Cap it
This isn't a necessity, but you will notice a lot of maternity gowns have little cap sleeves. On one hand, this is to cover the bra straps we previously talked about, and on the other, it gives a sweet and innocent look – perfect for a mom-to-be. You can look for regular sleeves or lace ones since they both look great and help give stability to the dress. Make sure that the sleeves aren't making you look childish, so avoid anything that is longer than a cap sleeve yet shorter than a half-sleeve.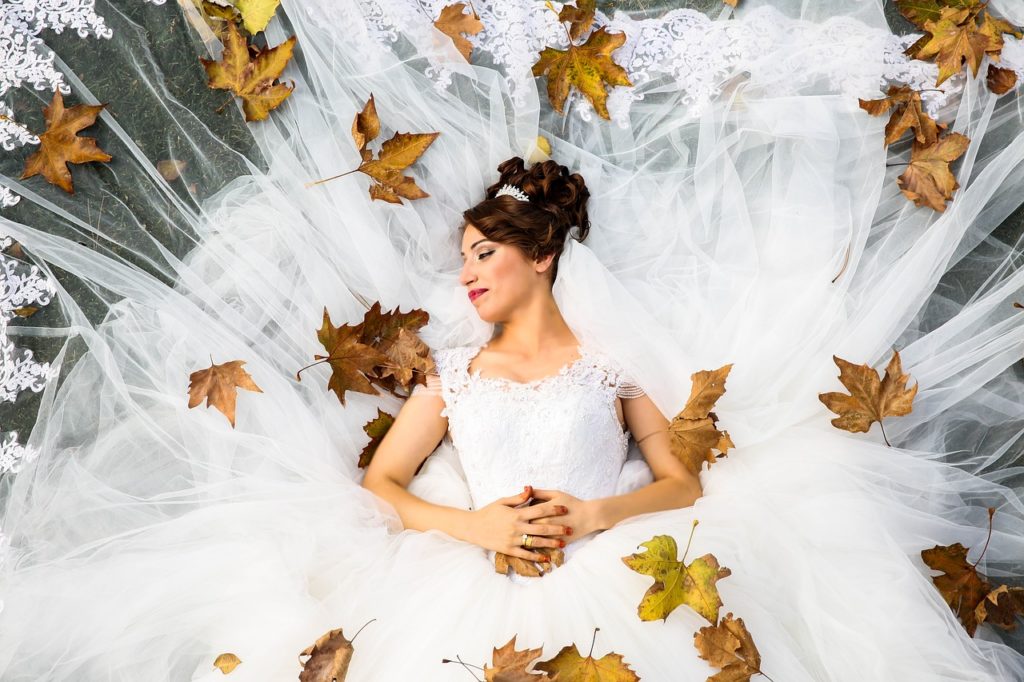 Being a future mom and a bride is amazing and you will have two things to celebrate instead of one. You will have that staple beautiful glow like no other bride and you will certainly surprise any guests that still don't know the news. Or, if you're concealing it, you'll know that your partner and your close family are hiding a little secret, giving it a touch of added excitement. So go and take some beautiful pictures, because you're going to be showing them to your newborn very soon.