The moment people hear the word "modern" many immediately tend to envisage something posh, sleek, and deprived of character. However, that is far from the truth, because nowadays numerous designers are creating modern kitchens that soothe your character.  Real estate pros understand just how important the kitchen is to the home. Not only that but with a perfect blend they can easily transform your beloved family area into state of the art ambient without having that over-extravagant flair. Functionality accompanied by luxury is what modern kitchens are all about. If you are still wondering how to renew your kitchen and make it inspirational, dwell no more and read on.
1. Open shelving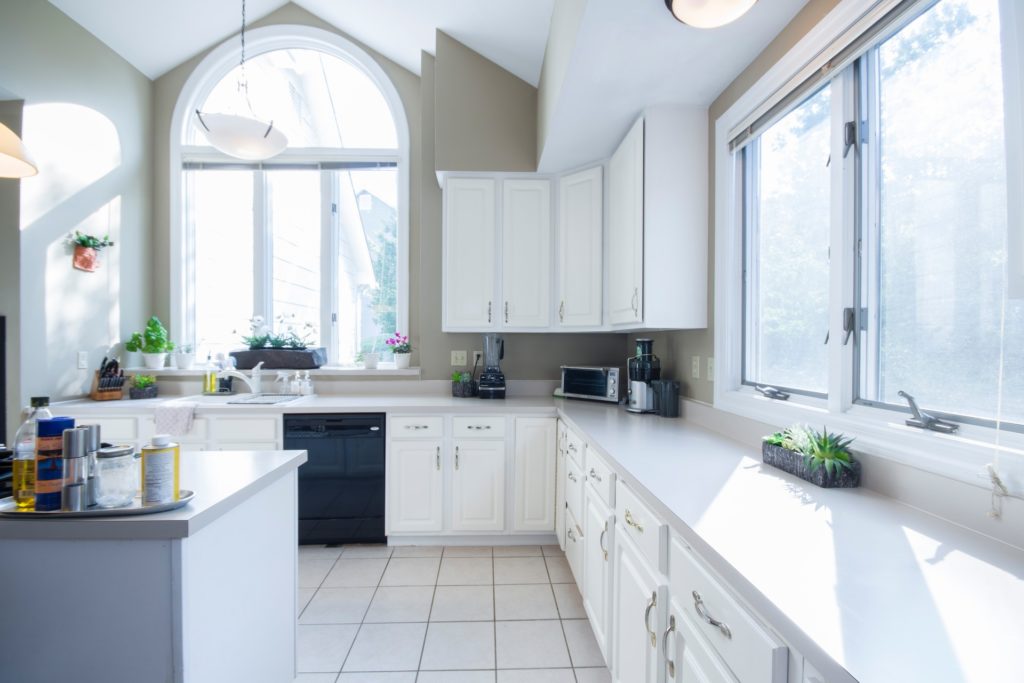 This is becoming a flabbergasting trend. Why not simply ditch out the cabinets and go open? It will do wonders to the entire kitchen area. First of all, you will have a sense of openness and coziness, meaning your kitchen will look grand. Next, even though you might not reckon it, having everything in the open is quite luscious. If you have dark cabinets, you can go for some contrast and place white shelves, and place multicolored dinnerware. For an even greater modern feel, you can place clean white plates, bowls, and cups.
2. Go rustic
For all the homeowners who like old-fashion flair, but strive for modern simplicity, bending rustic and vintage elements into your new kitchen is the thing to do. Think rustic brick or ceramic backsplash, hardwood cabinets, sleek countertop, raw wood island, and contemporary ceiling beams. You can place parquet or laminate floors for elegance. Add stainless still appliances, and you have created a fantastic cutting edge kitchen.
3. Backsplash designs
Forget plain white walls, and give your new kitchen some life and color. If you have one-colored cabinets, adding funky backslash will undoubtedly upscale the value of your kitchen. Nowadays, you can find various designs and materials, from the cool 80s mix of neon wallpapers to unique climbing vines backslash. If you happen to have cosmopolitan bean coffee machine, you can add gorgeous matte recycled glass tiles or some nude color palette wallpaper. Nevertheless, adding any creamy hues and stone tiles represents a warm way to lush-up your kitchen as well.
4. Industrial blaze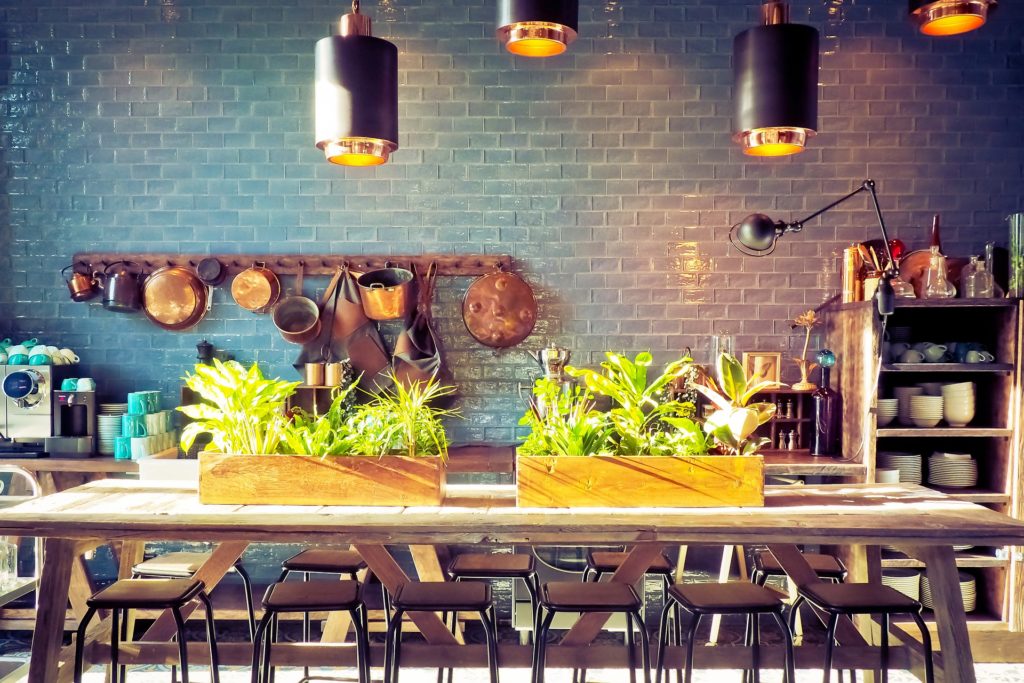 Back in the old days, people used the kitchen as a simple necessity. There wasn't even a need for walls or fancy appliance of the sorts. In the modern age, you can bring back the laid-back flair of the old-styled kitchens by placing stainless steel backsplash, rustic bar stools, over-sized copper lanterns, and wide windows. Don't be fooled, it can look extravagant and clean, especially if you place a lush vase with fresh flowers.
5. Refurbished neutrals
There are still many homeowners who strive for simplicity and cleanliness. Little do they know, but simple is the new trend. Updating your kitchen with neutral colors is a great idea if you don't have small children to run around for and clean afterward. When it comes to the colors, instead of choosing white, go for the gray or pale mystic green. Gray cabinets work very well with both warm and cool tones. The same goes for timid green or pink. If you pair gray or pink with white countertop you will create a beautiful, open, and monochromatic atmosphere.
6. Back in black
Using black cabinetry is an extremely stylish way to refurbish your kitchen. When you choose black cabinets, you can basically go for any other contrasting color for your walls and details, and completely rock the modern look. Black is the color that goes with any designer piece regardless of age. No matter if you have a small or a larger kitchen, adding black countertop and cabinetry will certainly upscale the value of your kitchen. You add golden knobs and details a more sophisticated look.
7. Open up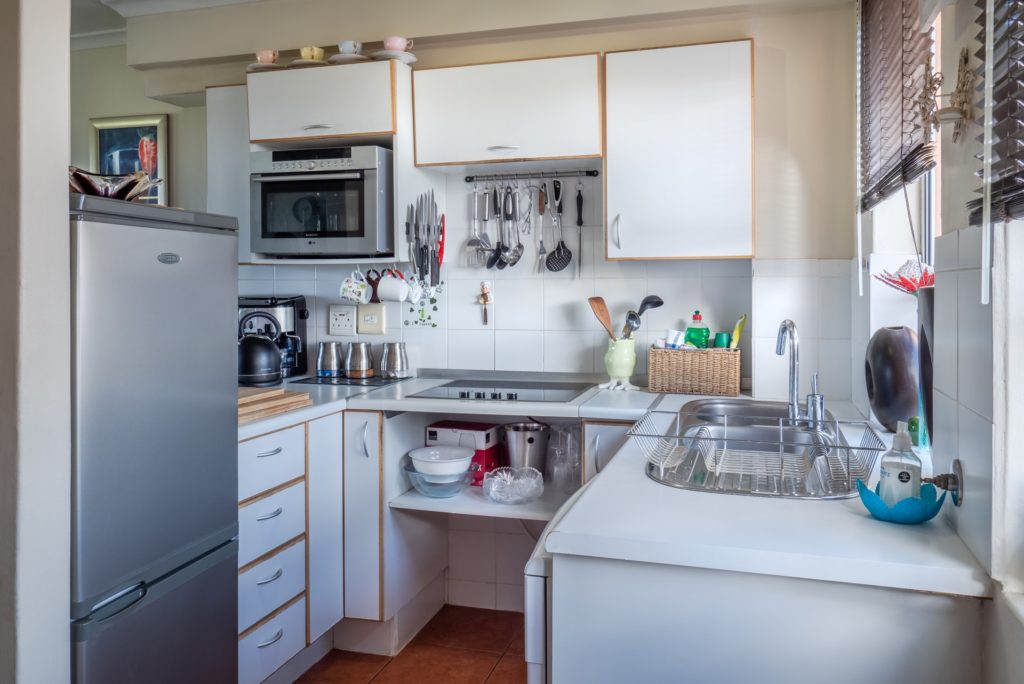 If you have a small kitchen and wish to modernize it by making it seem larger than it actually is, there is a solution to that. You can create a sleek modern design add greatness by placing darker cabinets on the lower section of the kitchen and painting the walls pure white. And above all, opening up the entire kitchen is a must. You can achieve that by placing a window wall. That is, installing a large window all around one side of your kitchen.
8. Vivacious appearance
Why should you settle for too elegant and over the top kitchen, when you can have both? You can easily modernize your kitchen by keeping the cutting edge and professional appliances but placing colorful and vivacious details. Keep the walls white, but add bright yellow, pink, or kiwi green plates, cups, and other serving ware. Placing a fancy fridge with cherry red or pastel blue door will totally deluxe your kitchen.
Reshape your kitchen and work through making it timeless. By turning it into a modern haven at your taste, you would surely have an area in your home that is genuinely yours.