Did you know that there are at least 4 different varieties of pineapples including several types ranging from white in color to bright yellow, small & tart to sweet and almost 20 pounds?
Yep, a lady in Australia grew the World's Largest Pineapple weighing in at 8.28 kilos = 18.25 lbs and measuring over 32 cm long – Wow!
This gorgeous plant is from the bromeliad family and native to Zones 10-11 for growing, but you can actually grow a pineapple plant inside during winter months, with its long spiny green leaves and 1-time fruiting plant – it makes a nice decoration plant in a planter or around the garden.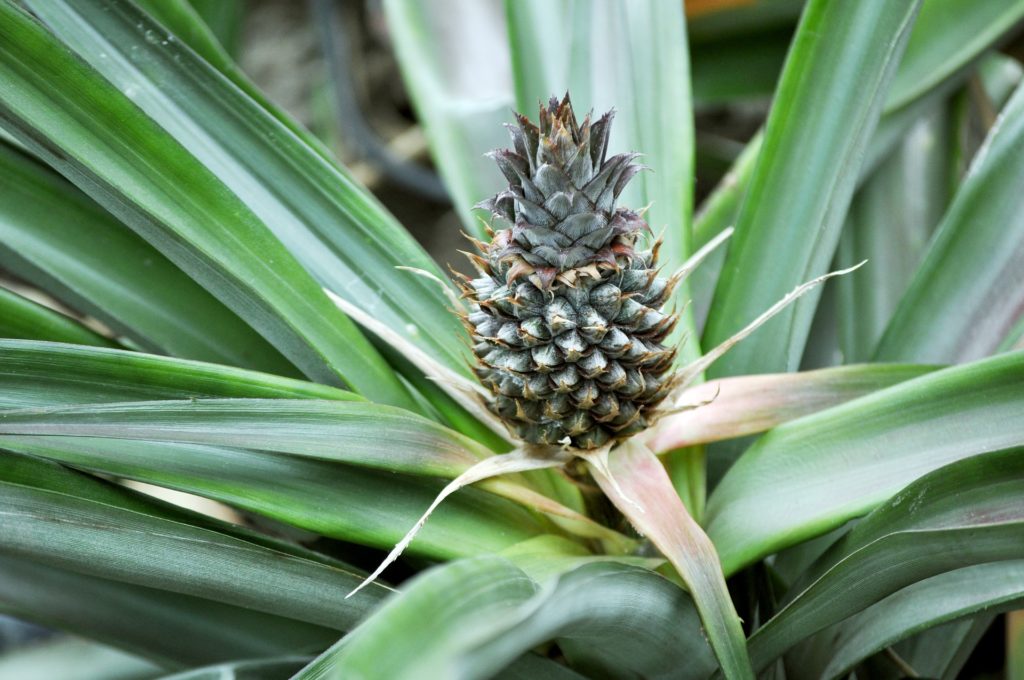 They grow to a height of 2 1/2 to 5 feet and width of 3 to 4 feet and they grow best in sandy soil that is rich in organic matter and drains very quickly to prevent root rot. Full sun is preferable for fruit production, while partial shade encourages foliage.
This super fruit has probably been cultivated and traded all over the world for thousands of years. Tough on the outside and soft & sweet in the middle, the fruit is great for juices, teas, broths, culinary additions in sweet & savory foods or just eaten alone.
According to legend, when Christopher Columbus first reached a Central American village, his crew could not get enough of this fruit – bringing it back to his native land. Europe was captivated offering a glimpse of the spiny fruit to guests at extravagant dinner parties. The pineapple fetched a high price, deeming a lavish gift for royalties and well-to-doers.
Internationally, the pineapple is a symbol of welcome & hospitality and still, to this day, is a housewarming gift around the world, even though the price tag has dramatically dropped in value. There is no wonder why the sweet fruit was so coveted, beneath the harsh outer skin – there was much more to benefit!
Pineapple juice alone is super beneficial – on the minerals front, it is packed with potassium, calcium, phosphorous, copper, thiamine, beta-carotene, and manganese. It is also rich in natural soluble and insoluble fiber and low in calories.
This super fruit is also loaded with vitamins – Vitamin C, Vitamin B-6, Iron, Magnesium & Calcium. The winner is Vitamin C – offering 75% of daily requirements in just 1 glass of fresh juice. Everyone knows Vitamin C is good for a healthy immune system and effective in cold and cell growth.
Pineapple cores are also the only real major dietary source of bromelain.
What is bromelain? an enzyme that helps modulate the body's inflammatory response, used for reducing swelling, bruising and recovery time especially of the nose and sinuses, after surgery or injury.
Did you know that the skin of the pineapple is also high in vitamins, minerals & enzymes? Usually discarded, the pineapple peels contain medicinal properties, which has numerous beneficial effect to our entire body packing added vitamin B, C, folate, thiamin, pantothenic acid, bromelain, niacin, and fiber.
So What Else is Pineapple Good For?
Sports Injuries

– pineapple can be useful in the treatment of sports injuries, thanks to the anti-inflammatory properties of bromelain.

Digestive Aid

– It supports intestinal health, protecting against constipation and hemorrhoids.

Thyroid Function

– Iodine in pineapple helps to regulate thyroid function and is loaded with gut-healthy fibers which help to absorb toxic waste

Electrolyte Boost

– Due to its high potassium content pineapple water helps to balance electrolytes

Immune Booster

– packed with essential vitamins & minerals – need I say more?

Arthritis & Joint Pain fighter

– Due to high levels of magnesium & copper, combined with anti-inflammatory, this super fruit is as effective as pharmaceutical drugs

Vision Protector

– The beta-carotene and Vitamin A are considered

eye vitamins

for macular degeneration and cataracts

Dental & Bone Strengthener

– The trio of potassium, vitamin D & magnesium improve bone mineral density working together to prevent blood from becoming too acidic, which can leach calcium from your bones and teeth.

Fertility

– the bromelain found in the core reduces inflammation, rumored to improve uterine lining and help with endometriosis-related inflammation as well. Sip a warm cup of pineapple tea every day to relax the environment for the embryo

Blood Booster

– the extra thiamine is an excellent diuretic that helps eliminate excess fatty liquids, helping your body break down carbs and detoxify – that's right, it can help you lose weight!
Most people just use the pulp of the fruit in salads, smoothies, savory dishes or just eaten alone, but the skins are often overlooked and underestimated.
Pro tip: Don't skip the pineapple again and simply add it to your garden, just twist the crown off and place it in a pot or on a hill or anywhere in your yard. They are easy to grow and make a nice ornamental plant while you are waiting for your pineapple baby to grow up – in about 1 year.
The recipes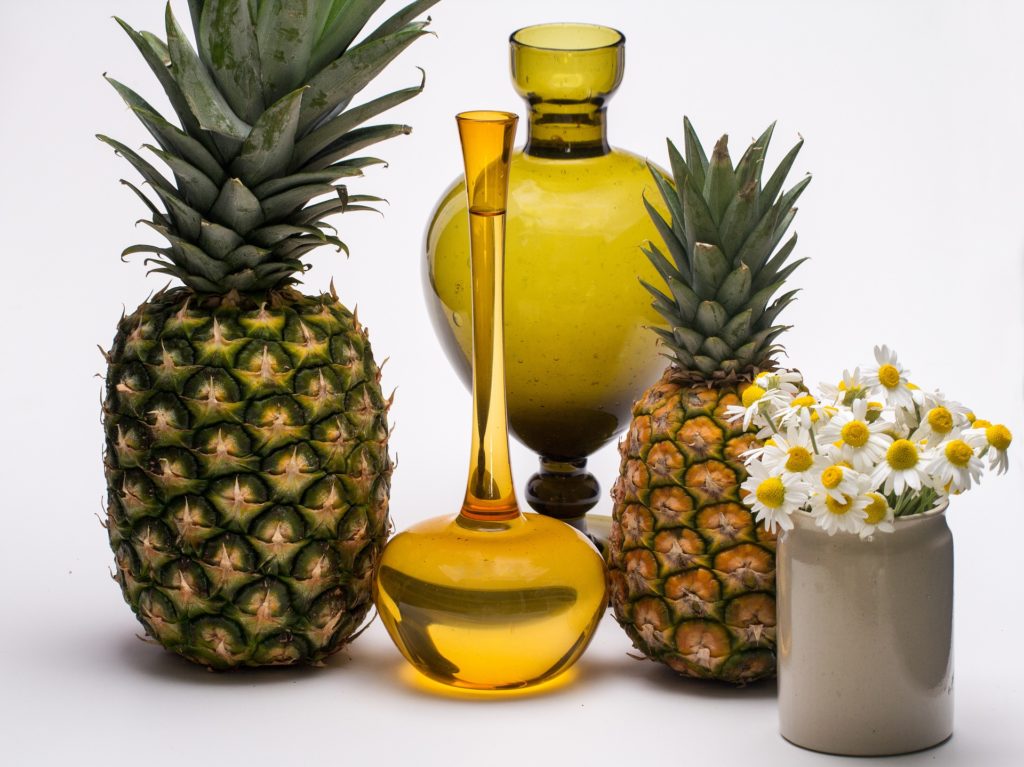 Pineapple Tea (Water
Making your own pineapple tea / water is easy and no matter what you add to the mix – it tastes great cool or warm. Here's how:
Here's how:
If your pineapple is homegrown or trusted organic, skip the next step.

Wash the pineapple well.

Peel it.

Set the pulp aside and add the skins to a saucepan

Add 1 liter of water – I always include the heart since most folks do not like to eat it and it can make smoothies a bit stringy.

Bring to a boil, then lower heat and let simmer for 15-20 minutes.

Remove from heat and let cool for about 5 minutes.
You can serve immediately as a hot soothing drink, or refrigerate it for a cool, refreshing and hydrating drink – obviously, you can add cinnamon tea, green tea, ginger, cucumbers, strawberries, honey or stevia, brown sugar, anything that goes great with a subtle pineapple flavor.
Pineapple Vinegar
We also love making our own pro-biotic Pineapple Vinegar. Here's how:
Ingredients:
½ pineapple

1 liter of water

1 cup brown sugar

2 whole cloves, or cinnamon sticks, or star anise
And the steps…
Cut up the pineapple into medium size chunks and leave the skins on.

Mix 1 cup of brown sugar into the water until all the sugar dissolves.

Add the pineapple and the sugar water to a sterilized mason jar.

Add in the cloves and/or cinnamon sticks.

Cover with a cloth or tea towel and secure with a rubber band for air.

Store in a cool, dark place (away from direct sunlight) for 3-4 weeks.

Stir the pineapple every few days to aerate it and prevent mold from growing on the surface. If mold forms on the surface, scoop over it with a large spoon. Don't worry, the vinegar is still good.
Taste the vinegar after 3 weeks. If it tastes sour and acidic like vinegar, strain out the pineapple chunks and bottle it. If not, let it ferment for another week. Repeat until it tastes like vinegar.
Store in a glass container or bottle in your pantry for several months to a year. I like to reuse old glass bottles and sterilize them with a simple solution of alcohol, water, and aloe. Pura Vida!
Pura Vida!