Promoting good circulation is key to the prevention or postponement of the development of vein disease. Varicose veins and other forms of chronic venous insufficiency, such as blood clots and Deep Vein Thrombosis, are most often due to the circulatory system failing or malfunctioning in some way. 
Healthy blood flow can be impeded by a variety of factors, including genetics, workplace environments, and diet. Good blood circulation ensures that your body gets the nutrients it needs while getting rid of waste products. But when blood flow slows down and lingers in your veins, it can lead to vein issues like varicose veins and chronic venous insufficiency (CVI). Pooling or stagnant blood due to poor circulation puts too much strain on your vein valves and walls, so it's best to take action in promoting blood flow as a proactive, preventative measure to ensure your veins stay healthy.
The good news is that making a few simple changes in your lifestyle can go a long way in boosting blood flow and preventing vein problems! In this article, we'll explore these practical adjustments that can make a positive impact on your veins (and, by extension, your overall health).
Stay Active and Keep Moving
Unsurprisingly, staying active and incorporating regular, low-impact exercise can significantly improve blood flow. When muscles contract, they provide graduated pressure to your veins, acting like an extra boost to the pumping flow of your blood. Exercise acts like a natural encouragement to the veins, helping blood move efficiently throughout your body and preventing any pooling.
In our legs, blood flows against the force of gravity to travel from the feet and legs back up to the heart and lungs, so your leg veins have a tougher task than those in your upper body. Engaging your muscles, especially those in your legs, with cardiovascular activities like walking, jogging, swimming, or cycling can work wonders. Even if you're not a fitness enthusiast, small changes like choosing stairs over elevators or stretching during short breaks can contribute to improved blood circulation. The main goal is to choose exercises that do not put undue stress on your joints or legs – we'd recommend calf raises over sprints, so to speak.
Maintain a Healthy Weight
Excess body weight can strain your circulatory system by increasing the stress on your lower extremities and the veins in your legs, making it harder for blood to flow smoothly back up to your heart and lungs. A balanced and diverse diet can not only help to maintain a healthy weight for your age, height, and lifestyle, but it can also support your circulation by boosting it through vitamins and a healthy dose of iron. A diet rich in fruits, vegetables, whole grains, and lean proteins can help you manage your weight and provide the necessary nutrients for healthy veins. You don't have to be perfect: you can have your cake and eat it, too!
Stay Hydrated
Proper hydration is key to maintaining optimal blood flow. Dehydration can lead to thicker blood, which moves with less ease than thinner blood, hindering its flow. Drinking enough water throughout the day helps keep your blood viscosity in check, ensuring that your blood flows smoothly. Additionally, dehydrating beverages such as coffee, tea, and alcohol are recommended in moderate, healthy doses. Drinking an excess of caffeine can also constrict the veins, further blocking good blood flow.
Kick Up Your Feet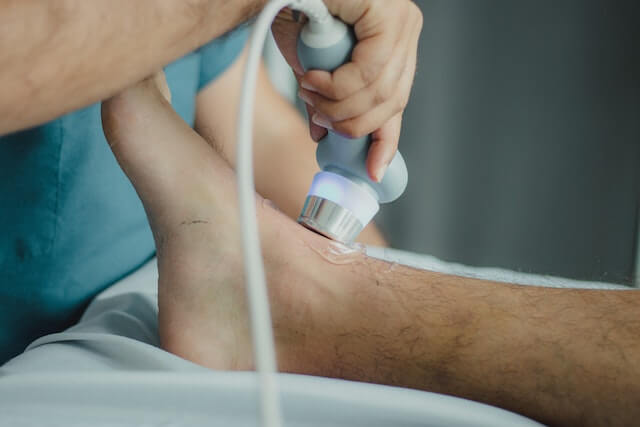 If your job requires you to sit or stand for long periods at a time, your legs may be impacted by poor circulation. Elevating your legs when possible (at your leisure or throughout the workday) can help counteract the negative impact of a sedentary lifestyle/workplace environment. For instance, when sitting, try propping your legs up on a stool or slightly elevating them on pillows when lying down to sleep or watching television. This helps encourage blood flow back to your heart by using gravity to help guide the blood in the proper direction (upward from ankle to waist).
Avoid Prolonged Sitting or Standing
As previously mentioned, long stretches of sitting or standing can slow down blood flow and lead to blood pooling in the legs. If your job involves sitting for hours, make it a habit to stand up, stretch, and take short walks regularly. The same goes for frequent flyers – if you fly often over great distances, walk the aisle of the plane and be sure to stretch your legs. If long stints of standing are more common for you, shift your weight from one leg to the other and take brief breaks to rest your legs when possible.
Consider Compression Stockings
Compression stockings gently apply pressure to your legs in a way that mimics muscle contraction, aiding blood circulation and preventing pooling. They can be particularly helpful for those at a higher risk of vein issues such as varicose veins or those already experiencing mild problems with their circulation. Our vein specialists recommend over-the-knee (or thigh-high) compression stockings with 30 mmHgs of compression for the best results pre and post-vein treatment. Encouraging blood flow with compression stockings can help alleviate the discomfort and swelling you may experience from varicose veins as well.
Quit Smoking
We know, we know: easier said than done. However, it's important to mention that smoking isn't a friend to good blood flow. It damages blood vessels and reduces their flexibility, potentially leading to issues with circulation. Quitting smoking can substantially improve blood circulation and decrease the likelihood of developing vein problems.
Manage Stress
Chronic stress can tighten blood vessels (this is a process called vasoconstriction) and impede blood flow. Incorporating stress management techniques like deep breathing, meditation, or yoga can have a positive impact on your circulation and overall cardiovascular health.
Seeking Meaningful, Lasting Relief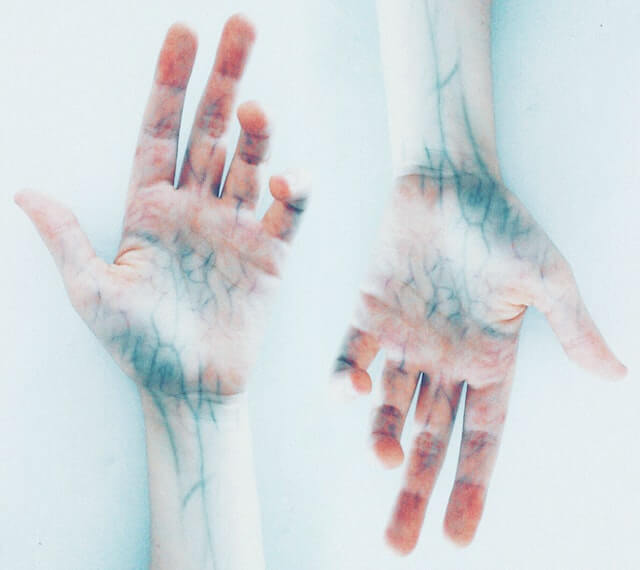 Improving your blood flow doesn't require major changes. These straightforward lifestyle adjustments can have a significant impact, promoting effective circulation and preventing vein issues. Remember, small steps can lead to substantial improvements over time. By prioritizing your cardiovascular health, you're not only preventing vein problems but also enhancing your overall well-being and vitality.
If you find that you are experiencing discomfort that does not go away even after applying these tips and tricks, we recommend seeking a consultation with a board-certified vein doctor.