When it comes to buying contemporary fireplaces, the specific type of electric fireplace is one aspect to think about. Should you go for fireplace inserts or wall-mounted units?
In this article, we discuss the things to consider when deciding between electric fireplace inserts or wall-mounted electric fireplaces. These factors include convenience, installation, safety, space requirements, and costs. Taking these into consideration should help you determine which type of electric fireplace will best fit your needs and meet your budget.
Installation
If you have an existing fireplace in your home but you're tired of cleaning up ash and soot from it, then making the switch to an electric fireplace insert might be a better alternative. It's a great source of supplemental heat and can provide a fair amount of heat while creating the ambiance of a real fire.
When you're in the market for a fireplace, one of the most important things to consider is the installation. You have the option of installing the insert into a wall, pre-existing cabinetry, or an existing fireplace. Installing an electric fireplace insert into your existing fireplace is easy. You can do it yourself by following the instructions in the manual provided when you buy the unit.
Some important factors to consider when going the DIY route in installing the insert is to ensure that the nearest outlet matches the electric requirements of your unit. Since electric fireplace inserts usually require a dedicated circuit, make sure to use an extension cord that is rated properly.
One distinct advantage of built-in fireplace inserts is the simple installation process. As long as the unit fits within an existing cabinetry or fireplace, sliding it into place can be a pretty straightforward job.
Installing a wall-mounted electric fireplace is also a very easy project that you can finish in under a half hour. It's pretty much like hanging a picture frame or mirror, but instead of looping wires over screws, you will install a wall bracket near an electrical outlet, and attach the fireplace to the bracket.
Space and Aesthetics
With fireplace inserts, there are three sub-categories that you can choose from: log set fireplace inserts, plug-in fireplace inserts, and built-in fireplace inserts. Each subcategory has varying styles and is designed to meet specific needs of users.
Despite the difference in styles, the sub-categories have some common features that make them a top choice for consumers looking to upgrade the appearance and functionality. Whether you have a contemporary taste in your home design or you prefer to incorporate traditional themes in your home, you are sure to find fireplace inserts that can serve as a focal point in any room you choose.
Homeowners who decide to go with the insert option do so because of the fact that electric fireplace inserts do not take up additional space in the home compared to freestanding stoves. In addition, they also have special features such as heat distributor fans and self-cleaning glasses.
If your available space at home is limited, wall-mounted fireplaces are also a great choice for improving the ambiance and aesthetics of your abode without taking up much space.
There are linear wall-mount models that are 74 inches wide, and you can even incorporate a wall-mounted fireplace into a gorgeous entertainment unit to provide ample storage and display space for various home items. And since they come in a variety of styles and sizes, you can choose from simple units to grand showcase products, and customize the media bed with your choice of pebbles or glass.
Safety
Both electric fireplace inserts and gas-mounted fireplaces are safer alternatives to traditional fireplaces because there are no sparks that will shoot up the chimney or spread onto the floor, which drastically reduces the risk of fire.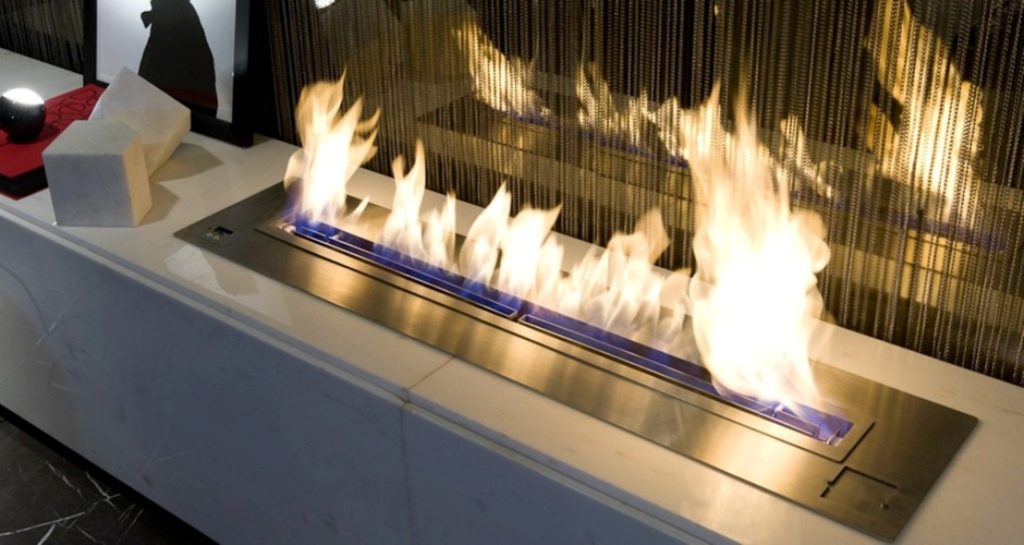 Most electric fireplace inserts have LED bulbs and have glasses that are cool to touch, making them safe for kids and pets. Electric fireplace inserts and gas-mounted fireplaces both provide secondary heat, which is essential to warm up homes that have cold corners and basements.
Some models feature flames that are sealed behind glass, so even if your children and/or pets spend a lot of time in the room where the fireplace is located, you don't have to worry about them getting burned or accidentally setting the house on fire.
Moreover, these types of fireplaces and their related parts are tested to make sure they meet UL standards of safety. Of course, there are still some safety precautions that need to be done, so check and follow what's written in the user manual. 
Regardless of the type of modern fireplace you choose, it is important to have a clear understanding of the pros and cons of each so you can make an educated decision on which one to get. Taking the time to know the features and style choices will help you identify the perfect one for your needs.