Are you interested in getting a pet for your household, but are concerned about how well your new furry friend will play with your kids? There are a lot of options, but cats are some of the most popular pets for good reason – they're neat, independent, and often get along well with their owners and children.
However, choosing the right cat breed is crucial. Different breeds have different characteristics that will make them more or less suited to your family's needs. The best cat breeds for children will be gentle, playful, and tolerant of a couple of pokes and prods from your child. 
Before You Get a Cat
Before you hop online and start looking at sales for British Shorthairs, it's important to remember that getting a pet is a lifetime commitment. Too many cats are left at shelters or worse – simply because the owners could no longer care for them.
Every cat owner is committed to giving their cat the love, care, and attention that their pet needs. These pets are often members of the family and deserve to be treated ethically and humanely. 
The same commitment goes for the children, as well – they should be involved in the care of their new pet, instead of simply thinking of this living creature as a toy to be played with and put away. Children should understand that they are also the caretakers of the family pet, and should be involved in the training, feeding, and grooming of the cat.
Let's take a look at some cat breeds that are perfect for families with kids.
6 Cat Breeds Perfect for Families with Kids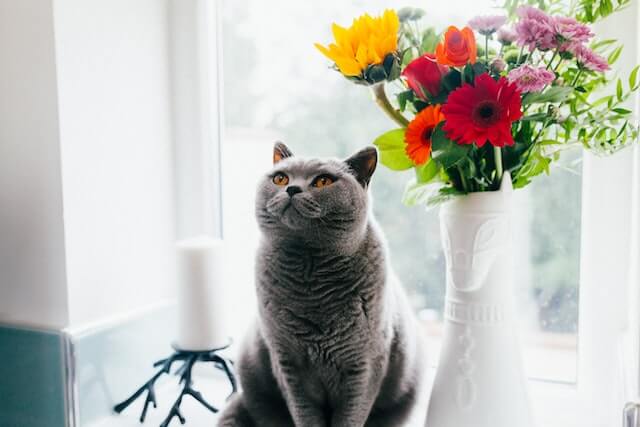 1. British Shorthair
British Shorthair cats are one of the oldest breeds we know of, dating back to the Romans. It's no wonder that this breed has stuck around so long, as they're gentle and easygoing with their family. They tend to be sweet and affectionate, but not so much that they're clingy. British Shorthairs make ideal family cats who enjoy being with their owners and play well with children and seniors. 
2. Persian
The Persian is one of the most adored cat breeds in the world and has been a companion for humans for over 400 years. Their long, flowing coats, round faces, and thick bodies give them a distinctive and adorable appearance. But that's not all – they're also famously quiet and affectionate. 
Persian cats have one goal – to be adored, and they excel at it. They love being next to people, soaking up all the pets, cuddles, and snuggles that they can. They're also sturdy and can handle children who are a little clumsy but are low-key and easygoing enough that they won't scratch or bite during play. Plus, their glamorous look will fit well into elegant living spaces. 
3. Ragdoll
The Ragdoll cat takes their name from their habit of going limp – like a ragdoll – when they're picked up, which says a lot about how docile and gentle they are. These cats are as kid-friendly as possible and are easygoing and relaxed with their family. They're known for following around their owners and seeking constant affection. 
4. Maine Coon
These giant cats are as sweet as they are fluffy and cuddly. Though they can grow into exceptionally large cats, they retain the disposition and temperament of kittens. These good-natured cats are gentle and tolerant of children, as well as seniors. They tend to be playful and kind, making them great companions for your kids. 
5. Abyssinian
If you want a people-oriented cat that is easy to groom, then you need to look no further than the Abyssinian. They're smart, sociable, and athletic, with a distinctive reddish-brown coat that needs little in the way of maintenance. While affectionate and sweet, they're a little less tolerant of being snuggled, preferring to sit beside their owners. 
What they really enjoy is activity, and they love to engage in spirited playtime with their family members. These are great cats for families with older children who can respect their cat's boundaries. 
6. Burmese
The Burmese cat may be the ultimate companion cat breed. They're the most affectionate cats that we know of, being loving, playful, and very social. In fact, some people consider them to behave more like dogs than cats. They develop strong bonds with humans and typically want to spend as much time as possible around their family. They aren't suited to be left alone for very long, so if you work from home then this cat may be the ideal choice for you.