Do you have plans for your family in place in the case of an emergency? If so, are all of your family members aware of the plans and what they should do if an emergency arises?
This month is National Preparedness Month, so it's the perfect time to start thinking about putting emergency plans into place. Here are some things to think about while you begin preparing your family for emergencies.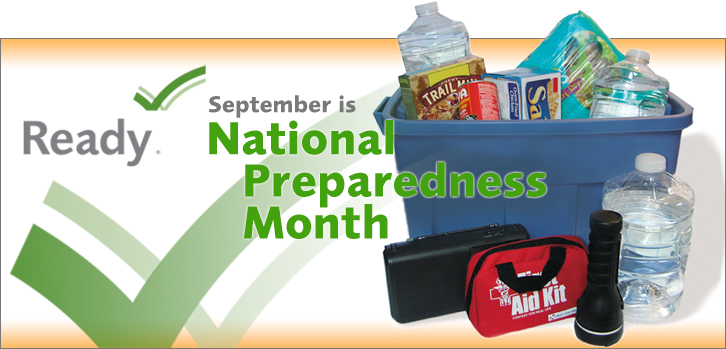 What do I need a plan for?
There are multiple situations you should plan for while creating your emergency plans. House fires, natural disasters, break-ins, and medical emergencies are some circumstances you should have in mind. Keep in mind your location and what kind of crises are likely where you live.
How do I find out about emergencies?
Sign yourself and your family members up for emergency text alerts for weather, Amber Alerts, etc. This way, if there is an emergency in your area, you'll be aware right away and can react quickly.
Also, be sure to install smoke detectors, carbon monoxide detectors, and home security systems (such as those here) to protect your home. These will sound an alarm and can even send notifications directly to your phone so you can take the next steps and alert authorities.
Follow weather, news, and security accounts like The Weather Channel, BBC News, and SimpliSafe to keep up-to-date on important information throughout the world.
What do I need to consider when creating a plan?
There are three major factors to keep in mind while you create your emergency plans: communication, resources, and location. As for communication, ensure that you have a dependable way to communicate with your family. You'll also want a way to communicate with others, such as a hand crank radio and an emergency cell phone, in case you need to call for help or get updates on your surroundings.
To have appropriate resources on hand, consider creating emergency kits to keep in your house and family cars. Items to think about keeping in these kits include food, water, first aid kits, tool kits, and more.
Lastly, have safe locations in mind for your family to stay. This is especially important with natural disasters. Designate a place either within your home or with a friend or family member where you'll be safe until the emergency has passed.
What do I do once I have a plan set?
First, educate your family on the plan and make sure they understand when it should be used. Include them in the process to keep the idea of emergencies from seeming frightening.
Next, make sure to hold random practices of the plan, just like how a fire drill goes. Time your family to see how long the practices take and ask them what could be improved to make the plan work as seamlessly as possible.
Your family will feel better about the possibility of emergencies if they understand the plan thoroughly and believe they can do it.
With these questions answered, you're ready to start preparing your family for emergencies. Each family is unique, so take the individual needs of yours into consideration while creating your plan.