Roller skates are made for fitness, dancing, and disco. This guide will tell you the best way to find cheap roller skates that fit your needs. People love to skate, but buying good quality skates can be expensive, so you must know the right tips to help you make the best purchase.
If you want to buy a pair of all-around skates with a classic skate look, you should buy roller skates or quad skates. The roller skates are designed with a wide baseplate that gives good stability and is suitable for all ages and people.
The next segment of this blog takes you through some of the important features of roller skates that will help you make the best purchase.
Roller skates have two sets of two wheels, providing a sturdy platform for the user to stand on. However, if you buy cheap roller skates for the first time, you have to decide first whether you require soft or hard wheels.
The tougher wheel has a longer lifetime but offers less shock absorption and grip than the softer wheel. Softer wheels give good grip and shock absorption but less lifespan.
It is also important to consider the bearings to ensure that quad skates perform best. It means it avoids moisture and water as much as possible. It also avoids dirt and sand.
There is little need to pay attention to bearing when buying cheap roller skates because it reaches too high a speed to affect the bearing rate.
Roller skates are available as hard shells/ hard boots or soft shells/ soft boots.
Hard boots are best for longer rides or fitness due to their great stability and support.
Soft boots are the best choice for a maneuverable skate for disco or dancing.
Size
You have read the size guide that is presented to you on the product page. You should choose about 1 size bigger than the regular shoe size. It is quite tough to choose the right size. Fitting the skates in your feet is important without being too tight or loose.
If you buy cheap roller skates for the first time, you should choose the 1 size up. Also, it is suggested to read the size guide first. If the size of the skate model is too less, then you have to buy 2 sizes up
Cheap roller skates come with plates and trucks. Most plates are made of nylon, making the skates less weight. Trucks are made of aluminum which makes the skates strong and heavier.
Quad skates are well-designed with cushions beneath that are easily replaced if you do not like them. They determine the agile state of the skate.
The softer the cushions under the skate are, the more agile it is
The harder the cushions under the skates are, the more stable the skates become.
Toe stop
Another unique features of cheap roller skates, along with four wheels, are the toe stop. Toe stops aim to set off with and used as a brake. Therefore, it is easy to replace the toe stop and remember to do so before it wears down completely.
If it is not, it becomes very difficult; if not impossible, it will dismount easily.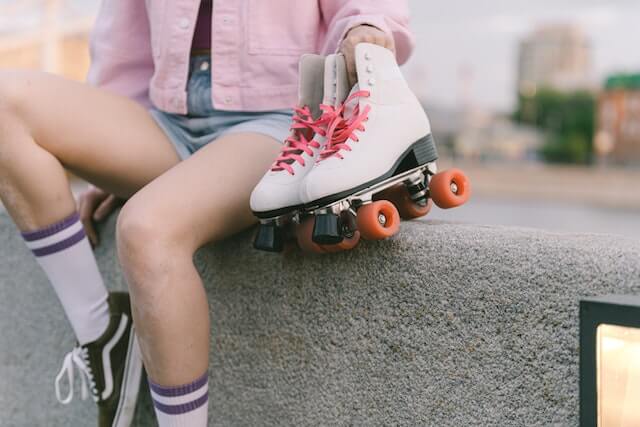 It is suggested you use certified safety tools. Also, it is suggested to first tests the gears of skates before using them. Moreover, you should use a helmet to ensure the maximum protection of your head if you are new to skating.
It is best to buy cheap roller skates that come at an affordable rate, with an inclusive helmet. Moreover, you can also buy wrist guards because skater uses their hand down when they fall from skates. Therefore, helmets and wrist guards are suggested to buy with roller skates to ensure high protection.
With the huge safety of skates, you can get more confidence and learn to skate faster by considering the protection factor.
Wrapping It Up:
If you want to buy roller skates with the best performance or at a cheap cost, you should be considered all the above factors.