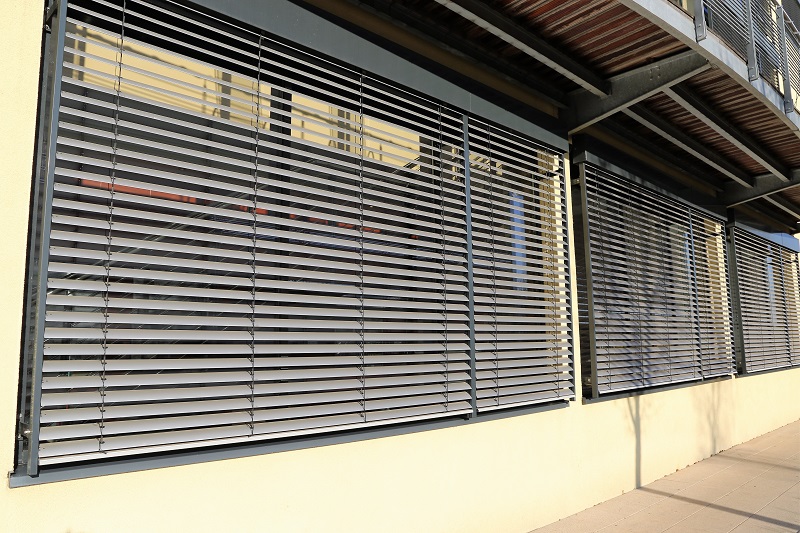 Interior trends are upgrading every day, and it has now included the outdoor area of the house. Do you like to relax at the exterior corner of your home with a cup of coffee and a book? Then you can think about adding some style and functionality to this outdoor entertainment space. The outdoor patio can be your balcony, porch, terrace, pergola, or the open living space within our home. 
Types of Outdoor Patio Blinds
Veranda blinds

: These outdoor blinds are ideal for giving coverage and privacy and at the same time. It also allows a little sunlight to spread in. 

Retractable blinds

: If anyone is looking for the highest sunscreen protection from the UV rays, then retractable blinds are ideal.

Folding arm yawing

: These blinds come with a folding arm and acts as a fabric roof for outdoor patios, terrace, etc.

Pivot arm yawing

: This blind is equipped with a retractable arm awning and it spring-loaded arm safeguards against strong winds. It also offers a shield from glare, heat and UV rays of Sun. 

External window shade blinds

: These are specially designed for the window of the house deterring the harmful rays and heat. 

External alfresco blinds

: This outdoor patio blind is meant for spaces like verandas, pergolas, and balconies. It has a vertical tension screen that safeguards from Sun's glare and other weather elements like wind and rain. 

External zip lock blinds

: It is similar to the veranda blinds with an added feature of gapless insect screen. It keeps the outdoor area safe from both Sun and unwanted pests.

Retractable fabric roof

: Made from a mesh fabric this awning acts as a retractable roof that ultimately provides shade from sunlight. Perfect for areas like glass roofs, pergolas, courtyards, skylights, sunrooms, etc. 
Benefits of Using an Outdoor Patio Blinds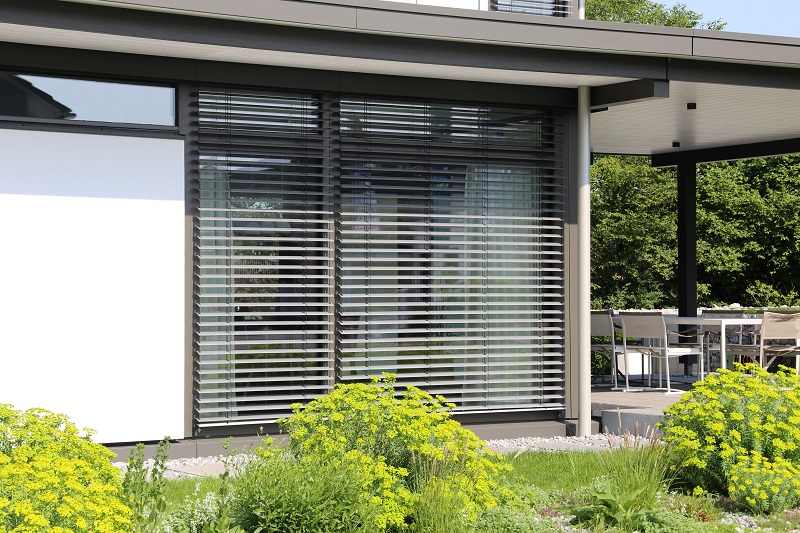 Maximise the space: As houses and commercial blocks are getting smaller, optimal space utilisation has become a concern for many dwellers. Getting coverage on outer space like veranda and patio will add more usable space for fun, recreation and other activities. 
Protect from weather conditions: A high-quality outdoor patio blinds can serve as a shield from extreme climatic conditions like UV rays, heat, rain, and cold drafts. In this way, you can utilise the exterior space without thinking twice about the weather elements. 
Protection from insects: Uninvited guests like mosquitoes, flies, and bugs can ruin your mood. They prevent you from experiencing outdoor activities. These outdoor blinds will keep all the little creatures and insects at bay.
Energy-efficient: The outdoor patio blinds are designed to cut down the expenditures on the utility bills. During the winters, it adds warmth in the place while in summers it reflects the heat and harmful UV rays and cools the interiors. Almost around 50% of electricity consumption can be reduced by using these patio blinds. 
Increases privacy: Also, with the array of colours and materials to choose from the outdoor patio blinds, one can conveniently increase the privacy of the outdoor space. Say hello to a comfortable and sheltered private retreat without worrying about the gawking neighbours and the unknown prying eyes. 
Versatility: The custom outdoor blinds are there to seamlessly fit with the backdrop and create a better space to spend with family and friends. As per the requirements, budget, and place it is available in different sizes, shapes, colours, and patterns. There are other options like sunscreen fabrics, tinted and clear PVC. 
Aesthetic appeal: These outdoor patio blinds can be seen in various styles and colours. Fortunately, it creates an element of decor that is suitable for the architecture of your exterior. As it covers the exterior inside your home, it brings an overall aesthetic appeal to the house. 
Ease of use: The outdoor patio blinds have different mechanisms of operation like shuttered, retractable, fixed or roller-style. These come with both motorized and manual functions which make them quite easy to use. 
The outdoor patio blinds are a smarter option to connect your indoor activities with the outdoors. The modern and sleek designs further enhance and redefine your exterior space. The outdoor patio blinds not only improves the aesthetic look but also adds comfort and privacy to the exterior.